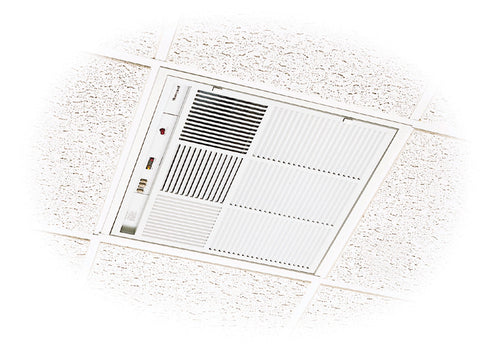 Honeywell F57B1026
485 CFM Electronic Air Cleaner.
The only thing small about the F57B is its size. Built to the same demanding performance specifications as the larger F57A, this smaller unit slips into any two-by-two foot space in drop ceilings with at least 13 and one half inches clearance above. That clearance can be reduced to 7 inches with the optional skirting kit. The F57B is the space-saving way to improve air quality in smaller areas like offices, break rooms, reception areas, computer rooms and copy centers, to name a few.
Contains one FC37B heavy duty commercial cell, 485 CFM, power supply assembly, prefilter, inlet-outlet grille, power and speed control switch, performance selection switch, collector test button, three-speed motor-driven fan, interlock switch for the access grille, exhaust air vent and LED indication of system operation.
Features
Removes staining dirt from the air as measured by the Dust Spot Method using atmospheric dust; refer to the American Society of Heating, Refrigerating, and Air Conditioning Engineers Standard 52.1-92.
Three-speed motor-driven fan circulates up to 1030 cfm (1750 cu m/hr) on F57A, up to 485 cfm (714 cu m/hr) on F57B.
Solid state power supply is self-regulating and maintains peak efficiency during a wide range of cell dirt-loading conditions.
Interlock switch prevents operation when the grille is open.
Heavy duty commercial cells and prefilter are removable for cleaning.
Air vent provides dilution of gaseous contaminants.
Provides Coanda air distribution by drawing in dirty air, cleaning it electronically, and recirculating the clean air in four directions throughout the space.
Test button shows the presence of high voltage.
Light emitting diodes (LED) indicate ON and CHECK; the WASH LED is optional.

Specifications
| | |
| --- | --- |
| Voltage | 120 Vac, 60 Hz, 4.3A |
| Installed Weight | 54 lbs. |
| Air Volume in cfm | High = 485, Med = 280, Low = 175 |
| Color | Off-white |
---
We Also Recommend
---